From left to right: Holly Gestring, Kyle Omphroy, Mona Samaan, Jaime Erskine-Pettit, Haverly Erskine, Ashley Pinkeney, Kristi Cowell Kusak, Julie Ann Wilson, Anthony Ricci
Jaime Erskine-Pettit: Jaime is the co-founder and co-chair of Dreams from Drake. She is a mother of four children, Trevor, Delaney, Drake and Tiernan, the wife of Brian and a Physician Assistant for Unity Hospital Parkridge Chemical Dependency. She was born in California and raised in Rochester. She received her B.S. from Daemen College and her M.S. from the University of Nebraska as a Physician Assistant. She is thankful for all the support her family received from family, friends, colleagues, and the community. Dreams from Drake was developed to offer that same support to other children and families dealing with the loss of a sibling or parent.
Haverly Erskine: Haverly is the co-chair and co-founder of Dreams from Drake. She is the proud aunt of three nephews and one niece, including Drake Ross Pettit. She owns a small business dedicated to small business marketing and content promotion, and she is a freelance writer for the Democrat and Chronicle and Rochester Business Journal. She studied public relations at Syracuse University and has a masters degree in educational leadership from the University of Rochester.
Kristi Cowell-Kusak, M.D.: Kristi is a primary care physician, wife, and mother of two girls as well as pediatrician and dear friend of the Pettit family.  A Michigan native with degrees from the University of Michigan and Michigan State University, she moved to Rochester to complete her Med-Peds residency training.  It is here that she met her husband, began her primary care career, started a family, and came to know the entire Pettit family.  She has always been an active member of many community service organizations supporting children and families including U of M's Dance Marathon, AmeriCorps, and URMC's PLC-CARE Track program.  Dreams from Drake provides an opportunity for her to share her passion for children, families, health, and providing services to those in need.
Julie Ann Wilson: Julie Ann is all about family and friends.  Besides the abundance of family and friends she has surrounding her, she also has five amazing godchildren, including Drake.  She recently graduated with her master's degree in liberal studies from Nazareth College.  She has Type 1 Diabetes and does a lot of advocacy and volunteer work with the local Juvenile Diabetes Research Foundation (JDRF).  She wrote her graduate thesis on living with diabetes and hopes to turn it into a published memoir.  She also writes a blog about living with Type 1.  She looks forward to the next endeavor in her career and life and enjoys working on this excellent board.
Ashley Pinkeney: Ashley Pinkeney, MA, MFT is a lifelong traveler who is also a Marriage and Family Therapist. She currently is the Pediatric Bereavement Coordinator at Golisano Children's Hospital and a Research Assistant at The Healing Connection, a partial hospitalization eating disorder program in Rochester, NY. Ashley's a native Rochesterian, earning her bachelor's degree at St. John Fisher College. She then traveled cross country to earn her master's degree in Marital and Family Therapy at University of San Diego. She  served in Rochester AmeriCorps from 2010-2011. Ashley's honored to serve on the board with other people who are passionate about serving the needs of grieving children and families.
Mona Samaan
Anthony Ricci, DDS
Kyle Omphroy: Kyle is a Web Designer at the Democrat and Chronicle and graduated from Columbia College Chicago in 2008 with a bachelors degree in Interactive Arts and Multimedia. He's been with the paper for five years and has won several awards including two AP awards. Kyle was born and raised in the Rochester area and enjoys supporting the Greater Rochester community.
Holly Gestring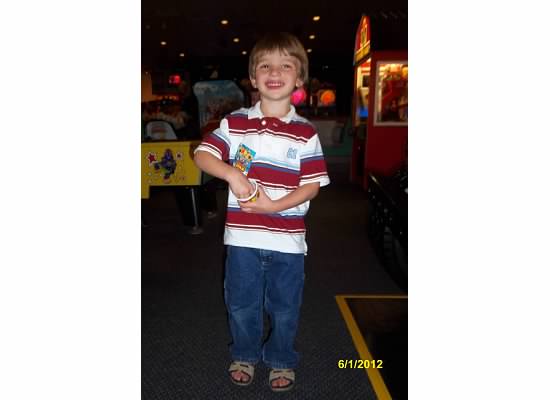 Our Drake Ross Pettit
Drake Ross Pettit went to Chuck-E-Cheese every year on the exact day of his birthday with his family!
His fourth birthday was no exception. With a cup full of tokens, Drake was off to play all the games and ride every ride he could.
Drake would share his tokens with his three other siblings, making sure that everyone got a piece of the fun!
At the end of his day at Chuck-E-Cheese, Drake had earned enough tickets to pick out a cool toy to take home with him; he picked out a lamp that continuously changed colors!
Because Drake loved sharing, he let each of his sibling's take a night where they could keep the lamp in their room! Once again, sharing is caring.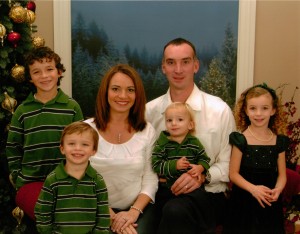 The Pettit Family with Drake Ross
Jaime and Brian Pettit are amazing parents who value nothing more than investing all their time and energy in to their children. Their four children, Trevor, Delaney , Drake (forever 4), and Tiernan, are their lives. Jaime and Brian spend their time helping others either at work or through volunteer opportunities. Their children are involved with karate, dance, baseball, soccer, piano, religious education, and art.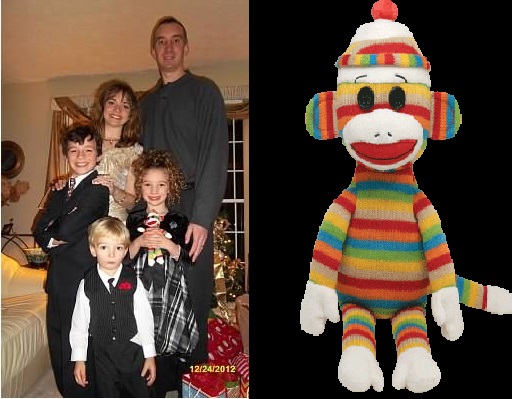 The Pettit Family with Drake Ross in Spirit and the Introduction of ROY
To represent the idea that Drake Ross Pettit is always with them in spirit, the Pettit family never takes a family picture without Roy, the rainbow-colored sock monkey featured in Delaney's hands and pictured below. Roy travels everywhere with the family, including vacations, soccer games, birthday parties, all holiday events, recitals, and much more. Wherever the family goes, Roy goes. He is featured in almost every Pettit family picture, and everyone in the Pettit/Erskine/DiNitto family carries their own Roy with them to represent Drake's spirit. Drake is and will be always with our families.
How did Roy get his name? Drake LOVED rainbows. He always thought they were so beautiful because they had so many colors. He also LOVED sock-monkeys. He slept with at least one every night. The rainbow-colored sock monkey is a perfect representation of two of Drake's favorite things, and since it travels everywhere with the family, it needed to have a name! Trevor decided on Roy, short for Roy G. Biv, the acronym used to describe the sequence of colors that make up a rainbow.